-12%
Kid-Friendly Wheatty Bags for Aches and Pains
HOT & COLD PAIN RELIEF THERAPY: This Hot Bag heats in the microwave to a calming, soothing temperature for beneficial heat therapy across affected areas of the body. For cold therapy, leave it in the freezer.
FULL COVERAGE with ERGONOMIC DESIGNING: Our Wheatty Bags are rectangular in shape, measuring 29 cm x 24 cm in size & 700gms in weight, thus providing full coverage with its unique, contouring style reaching even your hardest-to-reach neck, shoulder, and back pain. Our lightweight and full coverage heat bag are unmatched by any portable heating wraps.
AROMATHERAPY: Enjoy a wonderful & relaxing fragrance of lavender flower buds from France, while soothing pain away and your muscles feel absolutely relaxed.
THERAPEUTIC: Once your Wheatty Bag is safely heated in the microwave, instantly place it on the affected area for pain relief. Each bag holds in heat, maximizing your relief for fast and efficient recovery. Store your bag in your luggage for daily relief during travels near and far.
INSULATED & PROTECTIVE: Our Wheatty Bags are made with high-quality ensuring your safety at all times. It is protected by thick Cotton material providing insulation while protecting your skin.
REUSABLE & EASY-TO-CLEAN: From the filling to the cover, we designed every detail to stand up to heavy; repeated use to stand the test of time. To clean remove the outer cover which is washable.
Description
The Wheatty Bag Co: Your Solution for Safe, Organic Ache Relief
A Wheatty Bag is a cotton bag filled with non-chemically treated whole-grain A-grade wheat that can be used hot (heated in a microwave). Our Wheatty Bags are a natural alternative for treating and managing aches and pains. Our wheat is treated yet ensures you receive the best natural quality product possible. Wheatty Bags are safe for all age groups. The Wheatty Bag is Organic & has No Side Effects.
Organic Pain & Stress Relief
The Wheatty Bags are made of grains and can be conveniently used and heated several in the microwave in the comfort of your home. The cellular structure of wheat provides fantastic insulation properties. Wheat can absorb and distribute heat evenly and gradually ensure effective pain relief. Wheatty Bags can easily mould to the contour of the area that is being treated. It is less cumbersome and highly beneficial for pregnant women. It is majorly beneficial for their back, in case they feel heavy. Doctors and physiotherapists are widely recommending The Wheatty Bag, as it has no side effects. Shenaro Lifestyle's Wheatty Bags help you address any injury that requires hot or cold therapy with no worries. Use it as a thermal pain reliever, neck tension device, shoulder relief, back pain relief or more.

Heat Therapy I Cool Therapy
Heat therapy best targets back pain, neck pain, muscle spasms, soreness after a workout, morning stiffness, abdominal discomfort, and hips and knees aches, soothes after a long day on your feet and keeps you warm on cold nights. Heat therapy works well for muscle injury and pain. Heat Therapy increases blood circulation, accelerates the relief of sore and tense muscles, and has the ability to penetrate deeply into painful and irritated muscles. May also be used as a general heat bag to soothe menstrual cramps, arthritis, and back pain.
Cool therapy best targets headaches, heat flashes, bruises, etc. This Wheatty Bag can freeze in the refrigerator for treatments needing cold therapy to reduce swelling. Cold Therapy provides a chilling refreshment for the body and skin to relieve inflammation of joints or bruised areas, relieve discomfort as a result of burns or irritations, and reduce fever and body heat. Relieve pain due to injured muscles, headaches and Puffy Eyes. Reduce swelling and bruises. Promote muscle relaxation. Chill in the freezer to use as a plush, reusable ice pack to soothe hot flashes or nausea.
Use Wheatty Bag On: Shenaro Lifestyle's Wheatty Bag can be used on the neck, shoulder, back, arms, legs shoulder, Upper Back or any part of the body.
Wheatty Bag: Unique Gift Ideas for Every Occasion
This spa therapy is perfect for road trips, aeroplane flights, and hotel stays! To keep your wrap like new, store it in a zippered plastic bag and keep it out of warm, dark or moist places. Gift it to someone you love for Christmas or an Organic Diwali Gift. This is not a weighted product but provides relaxation through soothing temperatures. Calming herbal bags can be shipped as a gift to others such as family, kids, friends, the elderly, and teachers, or just enjoy them for yourself!
A Note from The Wheatty Bag Co.
We are confident in the quality of our products, and we hope that you will have a positive experience using them. However, due to the nature of our products, we are unable to offer returns, refunds, or exchanges. If you prefer to pay in cash, we are happy to offer cash on delivery as a payment option for our products. This way, you can pay when you receive your order, giving you added peace of mind.
We value your business and your trust in our products. Thank you again for considering us, and we hope to serve you in the future
Wheatty Bag From The Wheatty Bag Co. Organic Cotton I Lavender From France: Kitty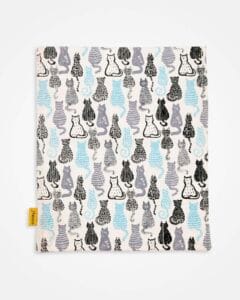 Cotton Scented Natural Reusable Hot Bag for Pain with Lavender for Aromatherapy & for ARTHRITIS I HEADACHES I MIGRAINE I BACK PAIN I CRAMPS I MUSCLE SPASMS or STRESS. TO RELIEVE INFLAMMATION OF JOINTS OR BRUISED AREAS. ABDOMINAL DISCOMFORT during periods. Made in India
Product SKU: WB-S22-Organic Cotton
Product Brand: Shenaro Lifestyle
Product Currency: INR
Product Price: 1150
Price Valid Until: 2022-09-30
Product In-Stock: InStock
Additional information
| | |
| --- | --- |
| RETURNS | REFUNDS | EXCHANGE | Due to the nature of our organic products, we do not offer refunds, returns, or exchanges. |
| COD | This Brand accepts cash on delivery. |
| Queries? | info@shenaro.com, +91 9718464463 |
| Customer Satisfaction | We at shenaro.com ensure the highest level of customer satisfaction through our rigorous quality control measures. |
| Information | All our products are sent directly from our respective brand stores. We respect the brands we work with and the clients we serve. |
| Guarantee | We guarantee the authenticity of products listed and sold on our website. |
| Disclaimer | Item colour may show slight variations due to different shooting light and monitor display. |
| Seller Information | Kamal International, B-51, South Extension, New Delhi-110049 |
| Country of Origin | India |
| Wheatty Bag Print | Flowers, Kitten, Multi Balls |